AS15600
AS15600 is the ASN used by the Quickline Group to provide connectivity for the Quickline customers spread out over 24 partners consisting of about 400.000 households in Switzerland providing Quad-Play services (Internet, TV, Telephone, Mobile) for residential and small business users.
This page contains technical details. Consumer and product information can be found on www.quickline.ch.
General Details
Full contact details can be found on the main website: Quickline Kontakt.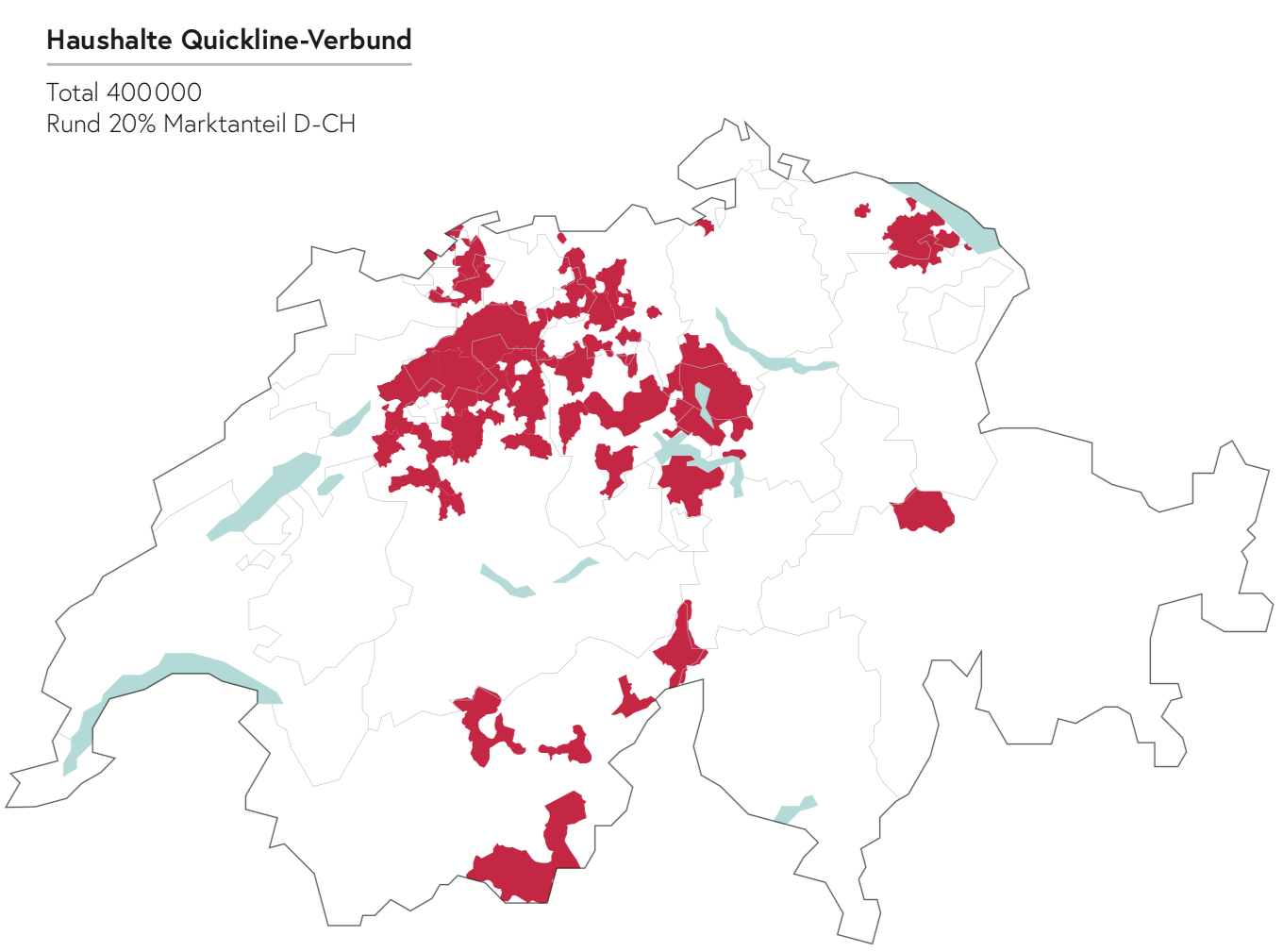 Helpdesk
helpdesk@qlgroup.ch
+41 800 84 10 20
NOC
noc@qlgroup.ch
+41 32 559 99 99
Abuse
abuse@qlgroup.ch
Domains
fcom.ch (backbone devices), qlnet.ch, qlns.ch/qlns.net (DNS), quickline.ch, quickline.com, qlgroup.ch, etc.
Connectivity
IPv4 + IPv6: Dark Fiber, DOCSIS, FTTH, xDSL, MPLS
Sidenote: Finecom Communications is the old name of the company before the product name (quickline) became the company name. The ASN entry and various other locations still carry the old company name.
Peering Details
Peering Locations
AS15600 is present at the following locations:
Next to various private peering facilities in Switzerland.
Peering Policy
Selective (mutually beneficial). Contact us at the above addresses for the exact details.
BGP Communities
Contact us for the exact details.
Abuse Reporting
Don't hesitate to send abuse reports and security issues to abuse@qlgroup.ch. Do please include proper details and accurate timestamps (including timezone). Actual abuse / DoS / Spam will be taken care of swiftly and is not tolerated inside AS15600.
Quickline AG operates under Swiss Law. International Law Enforcement should go through the proper channels, e.g. Nationale Zentrum für Cybersicherheit (NCSC).
SpeedTest
We provide a HTML/Javascript based speedtest at SpeedTest.quickline.com.
One can also use our iperf3 server at speedtest.quickline.com. Typically Linux distributions include this as 'iperf3' package, eg. Debian iperf3 package. Binaries for various platforms can be found at iperf.fr.
| | |
| --- | --- |
| IPv4 Download Test | iperf3 -R -4 -c speedtest.quickline.com |
| IPv4 Upload Test | iperf3 -4 -c speedtest.quickline.com |
| IPv6 Download Test | iperf3 -R -6 -c speedtest.quickline.com |
| IPv6 Upload Test | iperf3 -6 -c speedtest.quickline.com |
Please note that a speedtest is an indicator, various factors can affect performance. To get a most accurate speedtest as possible, use a Ethernet connection (Gig-E with proper Cat-5E or Cat-6 cabling), not WiFi (which can have interference and a lot of other factors). Also ensure that that is the only device using the link in question. Ensure that your firewall is disabled (eg. the Windows Firewall causes performance issues). Ensure that you are using recent hardware that can actually perform at high speeds.
Customer Recursive DNS
Accessible only from Quickline prefixes, thus AS15600 customers only.
IPv4
212.60.61.246 + 212.60.63.246
IPv6
2001:1a88:10:ffff::1 + 2001:1a88:10:ffff::2
Protocols

| Protocol | Shortname | RFC | IP-Protocol Ports | Hostname | Details | Comments |
| --- | --- | --- | --- | --- | --- | --- |
| DNS | Do53 | DNS | UDP/TCP 53 | dns.quickline.ch | | |
| DNS-over-TLS | DoT | RFC7858 | TCP 853 | dot.quickline.ch | | Android 9+ will use this automatically |
| DNS-over-HTTP | DoH | RFC8484 | TCP 443 | doh.quickline.ch | https://doh.quickline.ch/dns-query | Chrome 87+ uses this automatically; Firefox setup |
Resolver Restrictions
Note that due to Swiss law, we are blocking certain domains/hostnames. The blocked domains are sourced from:
Additionally we are blocking, voluntarily, malvertised domains to protect our customers from Internet badness.
Not using our DNS recursor bypasses these blocks, customers can freely reconfigure their devices. Technically we are using RPZ.
The geldspielgesetz.quickline.ch host gets redirected to when being blocked for the Geldspielgesetz (BGS) does not log either. We suggest using HTTPS, as we do not have the proper SSL certificate for other hosts and your browser will then warn about the SSL certificate.
Our systems do not log or otherwise store queries due to FADP (Federal Act on Data Protection), DSGVO (Datenschutz-Grundverordnung) and GDPR (General Data Protection Regulation), which Quickline adheres to as we have EU-national customers residing in EU-countries, while sometimes using Quickline from Hotels, Vacation rentals or their part-time residences in Switzerland.
Technical Details
We host a AS112 (RFC7534) node on our authoritive platform, used by our recursive servers. (dig @prisoner.iana.org hostname.as112.net txt +short +norec reveals when that is used.
Please also see presentations given at SwiNOG for technical details and background.
Customer Email Settings
Only authenticated email is available, thus a username + password is required.
| | | | |
| --- | --- | --- | --- |
| IMAP | imap.quickline.com | 993 | TLS |
| SMTP | smtp.quickline.com | 465 | TLS |
Also available through Webmail. More details are in the Anleitungen: Quickline E-mail (German).
Terms of Service
Please see the Quickline AGB.
Privacy Policy
Except for debugging/operational purposes we retain only a minimal amount of logs.
Note
Know why DF bits are set in IP? Love to work with Open Source? Can you argue why to use Emacs over Vi? Then don't hesitate to check out the Quickline Jobs page and/or ask HR for the Systems and Networks teams.